Artists
Neon Heights
Two years on from their second longplayer, the extremely-well received 'A Hot Trip to Heaven' (plaudits from Pete Tong, Rob Da Bank, Mary Anne Hobbs, Mixmag, DJ, iDJ, BBCi, Album of the issue in Update etc etc) Neon Heights return with ten more slices of funk/soul/jazz/pop/downtempo/
whateveruwannacallit flavaz for the 07.
With some new friends in tow - US wunderkid MC/vocalist/saxophonist J.Todd, Swedish chanteuse and 4 Hero muse Carina Andersson and local Notts diva Rachel Harris - the group have organically enhanced their sound, moving on up to what Michael Ruetten has already called 'next level' runnings.
Following recent reworkings of Stevie Wonder for Beatfanatic's Soundscape label and a remix of Fatboy Slim's Champion Sound that had Norman phoning the boys up to acknowledge how much he loved it, 'You Make Love...' once again has something for all the fam.
Kicking off with Radio 1 favourite 'I Walked Out This Morning' (multiple plays on The Blue Room to worldwide positive feedback) a number of these tunes have been doing damage already off CDR. The dancefloor-friendly Love Hound has been getting radio plays from The Unabombers and Michael Ruetten, not to mention a remix from Italy's Nu-Frequency crew, while the response to the Carina Andersson collabo 'Beautiful Thing' which closes the album has been phenomenal: The Unabombers, Pete Lawrence, Jimpster, Gilles P and Rob Da Bank have been amongst those lining up to praise its deep soul emotion.
In between there's a hiphop jazz ode to New Orleans penned by J.Todd ('Pray For New Orleans), some slinky soul courtesy of Rachel Harris' dynamic vocals on Giving my Love, Dreamin and Someone Like You, a cool J.Todd dancefloor ditty (Hott N Freezin) and plenty more to go-go...its a an involving, funk-filled listen from start to finish.
With a launch party set for The Big Chill house on September 7th and a series of DJ/PA gigs all over the shop, Neon Heights return with a vengeance: making music for music-lovers who still believe in the world's finest artform.
Released on Nottingham's esteemed underground label Bocajito (home to Secret Stealth and various members of Crazy P, Neon Heights and Fug to name but a few) its an album of many moods and textures which should sit nicely wherever you choose to give it a spin....check it out!
Secret Stealth
Born out of one too many beers in the local, Secret Stealth is a collaboration between Jim Baron (crazy penis) and Bob Sadler (Fug). The two decided their fridays would be more fun if they left behind their serious, pressure-filled day jobs to make some fun- funk music together.
Armed with an anything goes mentality, a massive pile of unsampled vinyl and a sampler they weren't afraid of, Secret Stealth have created music for Bear Funk (The Ted Rogers EP BFK011) and now for the new Nottingham label Bocajito.
Both Jim and Bob have released music under many names including Crazy Penis, Ron Base Jam, Fug, Waxploitation and Fram and have provided releases on Shiva, Nuphonic, Paper recordings, Tummytouch, Session recordings, Guidance and Vertige productions. Their collective remix credits include Christina Aguilera, Terry Callier, Alicia Keys, Salif Keita, Aquanote, Mint Royale, Problem Kids, Neon Heights, Amillionsons, Bliss, P*Nut and Whitney Houston.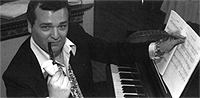 The debut album SSSHHH! showcases the vocal talents of Holly Backler and her Chaka-esque soul, Tom Bailey and his slightly worrying vocal range and Katty Heath sublimely ending off the album, combined with loads of live instrumentation and solid grooves.